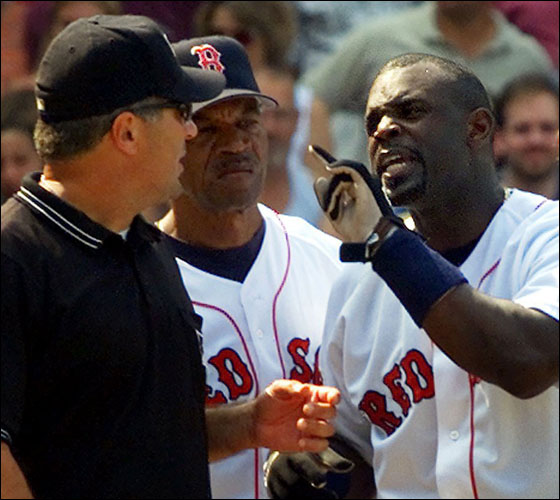 It was brought to my attention today that my beloved Angels were pursuing free agent (and frequent hot head) Carl Everett.
Now, if you don't know anything about Mr. Everett, let me give you a brief background. He's 36, been an All Star twice, has a wide batting stance, and he's pretty clutch when the game is on the line. Carl (or
C-Rex
as he's called, more on that later) also has garnered the reputation for being a walking temper tantrum-
bumping heads
into umpires, spitting- you know, the norm. Oh, and he has a son named
Carl IV
.
The more interesting Carl Everett lies in the religion that he so vocally believes in. As an Apostolic Christian, he takes the words and scripture from the Bible literal and infallible. When asked about dinosaurs, Carl says,
"God created the sun, the stars, the heavens and the earth, and then made Adam and Eve. The Bible never says anything about dinosaurs. You can't say there were dinosaurs when you never saw them. Someone actually saw Adam and Eve. No one ever saw a Tyrannosaurus rex."
But Carl, what about the bones? Surely you've seen dinosaur bones. What do you make of those?
"Made by man."
He goes on to say,
"You can make bones in the lab nowadays. And every year they come out with a different dinosaur movie, so does that mean that that dinosaur existed? A lot of things are being made that you would never see walk on this Earth."
I dug for some quotes online from his former teammates.
Bret Saberhagen, pitcher:
"I guess I'm the brave one, I sit next to him on the bus. Carl can talk to me and carry on a conversation on his cell phone at the same time. That's talent."
Nomar Garciaparra, infielder:
"My locker is next to his, so I try not to get into long conversations with him. I'll just say, 'Uh, gotta go, Carl.'"
Ryan Dempster, pitcher:
"Carl Everett is the best player in the major leagues. Just ask Carl Everett."
I'll leave your view of C-Rex completely up to you. However, in light of my findings, I urge my beloved to team to forego their pursuit of a man who doesn't believe in giant lizards. Not only would an Everett signing be detrimental to the team's chemistry, but it's also Anti-American. What would Professor Grant think?